Scientific Library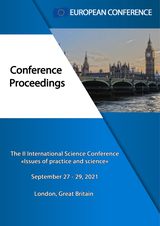 Ismaylova Rano Nuraeva Candidate of Psychological Sciences Scientific Research Institute "Mahalla and family"
Theoretical and practical approaches in the study of social psychological factors of domestic violence
Recently, a number of laws, decrees and decisions have been adopted in our
country to strengthen the legal protection of women. In particular, the entry into force
of the Law of the Republic of Uzbekistan "On guarantees of equal rights and
opportunities for women and men" and "On protection of women from oppression and
violence" on September 2, 2019 was a historic step in this direction. Now the victim
has the right to file a complaint with the relevant authorities and organizations or with
the court, claiming that she was harassed or threatened. They also receive free legal
advice at special centers through the hotline.
They also have the right to apply for social, psychological, medical and other
assistance, and to issue a protection order to the police. In order to prevent accidents,
to ensure the safety of the victim, measures are also taken to provide them with
psychological and social assistance in changing the behavior of a person prone to
violence. Such individuals undergo a correctional program to change violent behavior.
However, the relative prevalence of domestic violence and the high number of appeals
to social services and law enforcement agencies require a scientific and practical study
of the socio-psychological factors of domestic violence.